Distinguished Graduates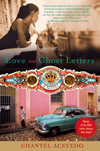 Chantel Acevedo (www.chantelacevedo.com) currently lives in Auburn, Alabama, where she is an Assistant Professor at Auburn University.   She is the author of Love and Ghost Stories, a novel, published by St Martin's press (2005) and winner of the 2006 Latino Literacy Now Award and a finalist for the John Gardner Fiction prize.  Acevedo's short fiction has been nominated for a Pushcart prize and has appeared in Prairie Schooner, Cimarron Review, and the Chattahoochee Review.  She has also been a Fulbright scholar in Japan and New Zealand.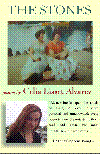 Celia Lisset Alvarez is the author of chapbook, Shapeshifting, to be published by Spire Press.  Her poetry collection, The Stones, was published by Finishing Line Press in 2006.  She teaches at St. Thomas University. Her work has been published in zingmagazine, Iodine Poetry Journal, Tar Wolf Review, Poui: The Cave Hill Literary Annual, Mangrove, MotherVerse, and Moving Forward: Women's Narratives of Identity, Migration, Resilience, and Hope, Vol. 1 (Uxbridge: Cambridge Scholars Press), The Powhatan Reviewand Other Investigations.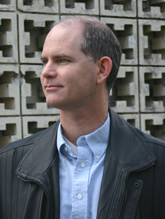 Tom Cavanagh
(www.thomasbcavanagh.com)
Thomas B. Cavanagh graduated from UM in 1988 with a double major in English (Creative Writing) and Motion Pictures (Screenwriting). Upon graduation, he worked in children's television, eventually writing numerous programs for Nickelodeon, Disney, Anheuser Busch Entertainment, and many others. Transitioning into multimedia, Tom now works in the world of eLearning. He went on to earn an MBA in Technology Management and a Ph.D. in Texts & Technology. Tom has published three crime novels since 2005, including the award-winning HEAD GAMES. His work includes:
PRODIGAL SON (2008, Thomas Dunne/St. Martin's)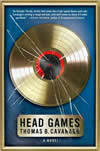 HEAD GAMES (2007, Thomas Dunne/St. Martin's)
2007 Florida Book Awards Gold Medal in Popular Fiction
2008 Best Hardcover Nominee: Shamus Awards
2007 "Killer Book" selection from the Independent Mystery Booksellers Association
Library Journal starred review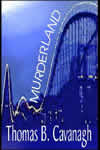 MURDERLAND (2005, Hilliard & Harris)
Television/Film Scriptwriting (various)
Head Writer of two television series nominated for 1992 Cable ACE Awards
Writer of a television series that won the 1991 Christa McAuliffe Award for Space Education
Contributing Writer for a television series nominated for 1991 Cable ACE Award
Writer of an educational television program nominated for a regional Emmy Award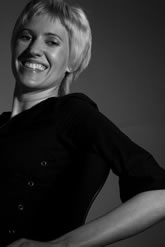 Crissa-Jean Chappell 
(www.crissajeanchappell.com)
Crissa-Jean Chappell holds an MFA in screenwriting and an interdisciplinary PhD in film theory, philosophy, and literature. She teaches creative writing and cinema studies at Miami International University of Art and Design. Her short stories have appeared in numerous literary journals, including Confrontation and the Southwest Review. Her debut YA novel, Total Constant Order, was recently published by HarperCollins. It is a Florida Book Award medalist and a New York Public Library Book for the Teen Age.
Total Constant Order - Book Details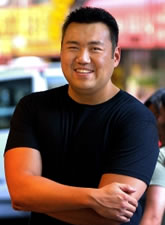 Terrence Cheng (www.tcheng.net) is the author of Sons of Heaven, published by William Morrow, and winner of an honorable mention from the Barnes and Noble Discover Awards.  He has also received a Literature Fellowship from the National Endowment for the Arts. Cheng teaches at Lehman College, part of the City University of New York, where he is Associate Professor of English and Creative Writing. His second novel, Deep in the Mountains, was published by Watson-Guptill press.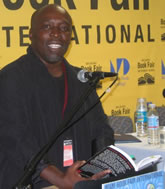 Garfield Ellis grew up in Jamaica, the eldest of nine children.  He studied marine engineering, management and public relations in Jamaica and in a varied career worked as a marine engineering officer on board ships, as engineering supervisor, and placement director of the Jamaica Maritime Institute. He completed his Master of Fine Arts degree at the University of Miami, on full scholarship as a James Michener Fellow.
He is a two-time winner of the Una Marson prize for adult literature; in the first instance for his first collection of short stories, Flaming Hearts (pub. 1997), and later for the manuscript of his novel, Till I'm Laid To Rest due out in (May 2010). He has twice won the Canute A. Brodhurst prize for fiction (The Caribbean Writer, University of Virgin Islands) 2000 & 2005 and the 1990 Heinemann/Lifestyle short story competition.
Garfield is the author of three published books: Flaming Hearts, Wake Rasta, and Such As I Have. His work has appeared in several international journals, including; Callaloo, Calabash, the Caribbean writer, and Obsidian III.  A fourth book, For Nothing at All was published by Macmillan Publishers in 2005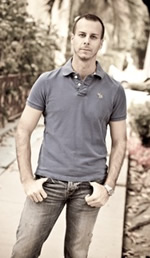 Neil de la Flor's publications include Almost Dorothy (Marsh Hawk Press, 2010), winner of the Marsh Hawk Press Poetry Prize, Facial Geometry (NeoPepper Press, 2006), co-authored with Maureen Seaton and Kristine Snodgrass, and Sinead O'Connor and her Coat of a Thousand Bluebirds (Firewheel Editions, forthcoming 2011), co-authored with Maureen Seaton and winner of the Sentence Book Award. His work, both solo and collaborative, has appeared in Hayden's Ferry Review, Barrow Street, TriQuarterly Review, Prairie Schooner, Indiana Review, Dogzplot, Hobart Pulp, Court Green, among other journals. He can be reached at www.neildelaflor.com and blogs vicariously at www.almostdorothy.wordpress.com
Donald Justice (born in Miami, Florida, August 12, 1925 - died in Iowa City, Iowa, August 6, 2004) was an American poet and teacher of writing. He graduated from the University of Miami and went on to teach for many years at Iowa Writers' Workshop, the nation's first graduate program in creative writing. Some of his students there included Mark Strand, Charles Wright, Will Schmitz and Jorie Graham. He also taught at Syracuse University, the University of California at Irvine, Princeton University, the University of Virginia, and the University of Florida in Gainesville.
Justice published thirteen collections of his poetry. The first collection, The Summer Anniversaries, was the winner of the Lamont Poetry Prize given by the Academy of American Poets in 1961; Selected Poems won the Pulitzer Prize for Poetry in 1980. He was awarded the Bollingen Prize in Poetry in 1991, and the Lannan Literary Award for Poetry in 1996.
His honors also included grants from the Guggenheim Foundation, the Rockefeller Foundation, and the National Endowment for the Arts. He was a member of the American Academy of Arts and Letters, and a Chancellor of the Academy of American Poets from 1997 to 2003. His Collected Poems was nominated for the National Book Award in 2004. Justice was also a National Book Award Finalist in 1961, 1974, and 1995.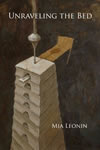 Mia Leonin is the author of two books of poetry:  Braid (Anhinga Press) and Unraveling the Bed (Anhinga Press), and a memoir which will be published by the University of Arizona Press in the fall of 2009. She has been awarded an Academy of American Poets Prize. Her poetry and non-fiction have been published in New Letters, Indiana Review, Prairie Schooner, North American Review, and Chelsea. She has received a Money for Women Grant by the Barbara Deming Memorial Fund and a 2005 Florida Individual Artist Fellowship. Leonin has been writing about theater, dance, and performance in Miami since 2000. She was the theater critic for the Miami New Times and is the recipient of a Green Eyeshade Award for theater criticism. She frequently writes about dance, performance, and Spanish-language theater for the Miami Herald. In 2007, she was selected to be a fellow in the National Endowment for the Arts/Annenberg Institute on Theater and Musical Theater.
Shara McCallum
(www.bucknell.edu/StadlerCenter.xml)
Shara McCallum has published two books of poems, Song of Thieves (University of Pittsburgh Press, 2003) and The Water Between Us (University of Pittsburgh Press, 1999, winner of the 1998 Agnes Lynch Starrett Poetry Prize). Her poems and personal essays have appeared in numerous literary journals and been reprinted in over twenty anthologies of American, African American, Caribbean, and World poetry. Originally from Jamaica, McCallum directs the Stadler Center for Poetry and teaches at Bucknell University. She is also on the faculty of the Stonecoast Low Residency MFA program. She lives in Pennsylvania with her family.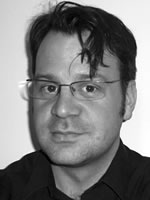 Paul Perry was born in Dublin, Ireland in 1972. He graduted from the MFA at UM in 1997. He is the author and editor of a number of critically acclaimed books including The Drowning of the Saints, Goldsmith's Ghost, 108 Moons and The Orchid Keeper. Based in Dublin, he teaches creative writing for Kingston University, London, and University College Dublin and is Course Director in Poetry for the Faber Academy in Dublin. A new book, The Last Falcon and Small Ordinance, appears from The Dedalus Press, in 2010. His website is www.paulperry.ie
Geoffrey Philp's most recent collections of poems include Xango Music and Benjamin, My Son (Peepal Tree) and Twelve Poems and a Story for Christmas (iUniverse)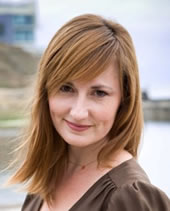 Michelle Richmond is the author of the New York Times bestseller The Year of Fog, which has been translated into nine languages and is currently in development with Newmarket Films. She is also the author of the novels No One You Know and Dream of the Blue Room and the story collection The Girl in the Fall-Away Dress, which won the Assosicated Writing Programs Award. Her stories and essays have appeared in Glimmer Train, Playboy, The Missouri Review, The Kenyon Review, The Believer, Best American Fantasy, and elsewhere. She has taught in the MFA programs in creative writing at the University of San Francisco, Bowling Green State University, and California College of the Arts. She lives in San Francisco. Her website is www.michellerichmond.com.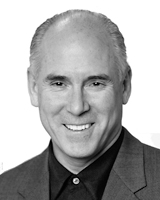 Hayes Roth is responsible for directing all marketing and new business development efforts for Landor worldwide, as well as serving as senior manager on major global branding projects.
Prior to joining Landor in 1995, Hayes was founder and principal of his own multidisciplined marketing services company, Roth Marketing Communications Inc., where his clients included the Perrier Group, Price Waterhouse LLP, Prudential Securities, and T. Rowe Price.
Hayes is a frequent lecturer at leading business schools including Cornell, Columbia University, Georgetown, Dartmouth, and the Capital University of Economics and Business in Beijing. He has also lectured at marketing conferences around the world, including the Economist marketing forums in New York, Shanghai, and Dubai. As a key spokesperson for Landor, he regularly provides expert commentary on a range of industry related subjects for CNN, NBC, CNBC, ABC, Fox Business News, Bloomberg Networks and PBS, as well as the Wall Street Journal, Fortune, The New York Times, BusinessWeek, BtoB, Marketing News, Adweek, BrandWeek and USA Today.
He holds a BA from the University of Miami and is a member of the College of Charleston Department of Communications Advisory Council.