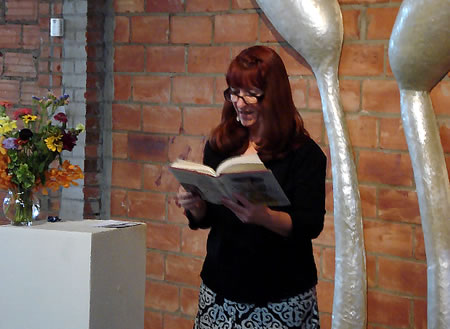 The Creative Writing Program at the University of Miami hosts two major reading series. We work together with The Department of English, The College of Arts and Sciences, The Executive Office of the Vice President and Provost, the Master of Arts in Liberal Studies, the UM Citizen's Board, The UM Auxiliary Services and our community partners at Books and Books and WLRN to bring distinguished writers and poets of national and international reputation to our community. ‌
The Ibis Literary Reading Series is an interdisciplinary and community linked series of readings.  This year, we take our reading series on the road and invited writers and poets as well as our students out into the community by hosting our readings at Books & Books in Coral Gables.   The Ibis Literary Reading Series promises to engage our community in a fascinating exploration of the fluidity of language as it crisscrosses borders, cultures and people as we carry last year's polyglot writer theme into the University of Miami's celebration of the year of Humanities and the Arts.
Our open mic series, USpeak: Open Verse and Story Performances, provides our community a unique opportunity to hear and be inspired by established writers and poets. In addition to readings by distinguished local authors, students are encouraged to stand up and read during the open mic session. This year we kick-off our series with local poets Carolina Hospital-Medina, Geoffrey Phillps and Adrian Castro, poets who were literally on the streets with their poems. The literary evenings are a classic exchange between the Miami literati and emerging student writers and poets.
The mission of our literary and performance reading series is to encourage the reading, writing and performance of poetry and story-based narrative on campus; to foster community, intellectual and artistic engagement; and to create opportunities for our student writers to connect with other writers.
Recent national and international guest writers have included:
Natalie Handal
John Murillo
Cristina Garcia
Ishion Hutchinson
Susana Chavez-Silverman
Patricia Engel
Emma Trelles
Peter Selgin
Ngugi Wa Thiong'o
Edwin Torres
Edwidge Danticat
Ninotchka Rosca
Juan Delgado
Abraham Yehoshua
Grace Paley
Marilyn Hacker
Terese Svoboda
Jay Wright
Roland Merullo
Jason Nelson
Chuck Palahniuk
Michael Hettich
Fleda Brown
Diane Goodman