Distinguished Visiting Associate Professor 2012-13, Poet Valerie Martínez
by Daisy Hernandez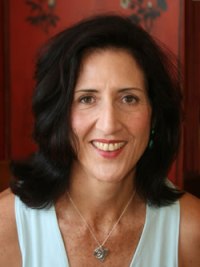 "The arts have a special power to bring people together because it's not like a meeting where you have an agenda to solve a problem," says Martínez, who has joined UM's Creative Writing Program as Visiting Associate Professor for the 2012-2013 school year. 
Martínez speaks from experience. She's the executive director of Littleglobe Inc., a community arts organization in New Mexico that works with people across the Southwest on art projects that tackle immigration, racism, environmental abuses, and the Iraq war. Her own book-length poem, Each and Her, a collage of verse, statistics, and quotes about the hundreds of women violently murdered in Juarez, won the Arizona Book Award and was nominated for the Pulitzer Prize, the National Book Critics Circle Award, the PEN Open Book Award, the William Carlos Williams Award, and the Ron Ridenhour Prize.
At Littleglobe, Martínez and her artist team have collaborated on projects with community ensembles that include 8-year-olds, 85-year-olds, women war vets, foster care youth, Alzheimer's patients, undocumented immigrants, hospice patients, and bus riders. Some of the projects have been  commissioned, while others have sprung up among Martínez and her colleagues. All the projects involve creating ensembles of community members. The work spans the course of several months and has led to new collaborations among community members beyond the arts. A new Littleglobe project will have live performances on bus routes across Santa Fe—bringing together community members from different racial and socioeconomic neighborhoods. 
During her first project with Littleglobe in 2007, Martínez worked with a group of Santa Fe community members that included undocumented teenagers and locals as well as others who perhaps never had to think about the impact of immigration policy. When immigration officials raided homes and businesses for five straight days, an estimated 30 people were taken and their names withheld from family members and the city mayor alike. The raids shook up the Littleglobe ensemble.
The group, says Martínez, decided that the raids had to be a part of their performance, Memorylines: Voces de Nuestras Jornadas, and when their opera opened at the Lensic Performing Arts Center later that year, it included a scene in which a fence was created by human bodies. Six transparent screens were also assembled onstage to form a cage, and inside of it, group members pressed elbows and hands against the screens to show the desperation of those who are trapped. 
"We wanted the audience to feel the human beings directly affected by this," says Martínez. 
If she uses the word "we," it is because Martínez considers herself a part of each Littleglobe community ensemble—not its expert leader. This is an approach to community arts work that sees the artist as facilitator and as group member. The artist shows up with her craft, says Martínez, but the artist also arrives to take risks along with everybody else, and to grow in her discipline. 
And grown Martínez has. She has most recently been in the literary spotlight for Each and Her, but the importance of the book, she says, is the attention it's brought to the women of Juarez. "I feel like they're my sisters. Despite the brutalities evoked in Each and Her, I think of it as a love poem," she says. 
Martínez is Santa Fe's former Poet Laureate and also the author of the poetry books Absence, Luminescent (1999), World to World (2004), and And They Called It Horizon (2010). But her work with Littleglobe and the communities of the Southwest, she says, has brought her back to the primary reason she began writing poetry. "I started writing because I was a troubled kid," says Martínez. 
Poetry offered her a refuge, she observes, and she has been reminded of this by the Littleglobe community members.  
"When you ask people to express themselves in words or make poetry in the community, it's very essential for them," says Martínez. "It's never an intellectual exercise. They're writing deeply out of their own experience, out of their own stories, and poetry means to them a kind of elemental expression of who they are, and I think that's why I started writing poetry." 
A second year student in fiction, Daisy Hernandez is the coeditor of Colonize This! Young Women on Today's Feminism and her commentaries have been featured on NPR's All Things Considered, as well as, in the Christian Science Monitor, the New York Times, and Ms. magazine. To see more of her writings, go to www.daisyhernandez.com.
---
Previous Distinguished Writer-in-Residence