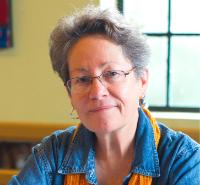 Visiting Associate Professor, Fall 2017

Holly Iglesias is the author of three poetry collections, Sleeping Things (forthcoming, 2018), Souvenirs of a Sunken World and Angles of Approach, and a critical work, Boxing Inside the Box: Women's Prose Poetry. In addition, she has translated the work of Cuban poet, Caridad Atencio. She served the associate director of the Master of Liberal Arts program at University of North Carolina-Asheville, where she taught in the English and Humanities Departments, focusing on archival poetry and documentary film. Her approach to teaching is nonhierarchical, facilitating student growth in engagement, leadership, and aesthetic and intellectual development. 

She is the recipient of fellowships from the National Endowment for the Arts, the North Carolina Cultural Council, the Edward Albee Foundation, and the Massachusetts Cultural Council. Her poems have appeared in many journals and in anthologies such as The House of Your Dreams: an International Collection of Prose Poetry, Nothing to Declare: a Guide to the Flash Sequence, The Best of the Prose Poem, and Sweeping Beauty: Contemporary American Women Poets Do Housework. 
---