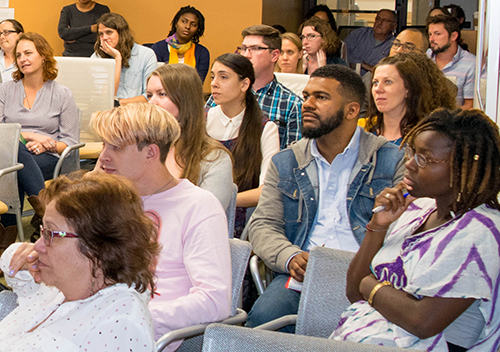 Graduate Studies: PhD in English
The program offers opportunities for research in all major areas of literatures and cultural studies in English, with particular strengths in Caribbean literary studies, early modern literature, feminisms and theories of gender and sexuality, transnational studies, Irish literary studies, and postcolonial studies. We encourage students to enroll in classes, where appropriate, in the departments of Modern Languages and Literatures and History. In the most recent rankings of English PhD programs by the National Research Council (2010), our program was one of the two top ranked programs in the United States for student and faculty diversity, and we especially encourage applications from highly qualified underrepresented groups and international students. All of our PhD graduate students are fully funded, receiving tuition remission and a cost-of-living stipend.
We offer seminars and workshops in all areas of professionalization, including publication, academic job preparation, and alternative academic (alt-ac) support.  Within nine months after graduating, over 90% of our graduates have full-time employment--the majority of them securing term and tenure-track academic appointments. 
Other Highlights:
If you have questions about the PhD program, please contact the Director of Graduate Studies, Professor Patricia Saunders, or the Graduate Program Coordinator, Lydia Starling.
For information about the MFA in Creative Writing, please contact the Director of Creative Writing, Chantel Acevedo.
Follow the PhD program on Facebook, Twitter, and Instagram via the icons below!