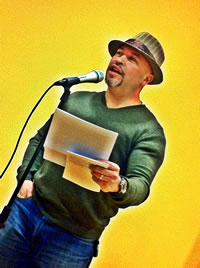 Listen Now
Born in Ecuador and raised in the Bronx, Oscar Bermeo is the author of the poetry chapbooks Anywhere Avenue, Palimpsest, Heaven Below and To the Break of Dawn.
He has facilitated poetry workshops at Rikers Island Penitentiary, the Oakland Public Library's Oakland Word Program, UNC-Chapel Hill, Mind-Builders Creative Arts Center, the Bronx Academy of Letters, Teatro LATEA, Dias y Flores Community Garden, and Youth Ministries for Peace and Justice, among others, and led poetry discussions and seminars in schools throughout New York City and Oakland.
Oscar has been a featured writer at a variety of venues and institutions including the Nuyorican Poets Café, the Bowery Poetry Club, St. Mark's Church, WBAI radio, WGLT Poetry Radio, Kearny Street Workshop, Intersection for the Arts, La Peña Cultural Center, The Loft Literary Center, Sacramento Poetry Center, National Hispanic Cultural Center, Studio Museum of Harlem, Litquake, San Quentin Prison, Alameda County Juvenile Justice Center, Columbia University, New College of California, California College of the Arts, Illinois State University (Normal), Amherst College, William Paterson University, Syracuse University, University of North Carolina at Chapel Hill, San Francisco State University, University of California at Berkeley, New York University, and many others.
Oscar was the founding curator and host of the Acentos Bronx Poetry Showcase, a twice monthly showcase of emerging and nationally recognized Latina/o poets, in the Mott Haven section of the Bronx. He was also a founder, curator and host of synonymUS, a multidisciplinary poetry series at the Nuyorican Poets Café. Oscar was a SlamMaster for Team louderARTS|NYC (2002-03) and served on the Rules and Protest Committee of the 2005 National Poetry Slam.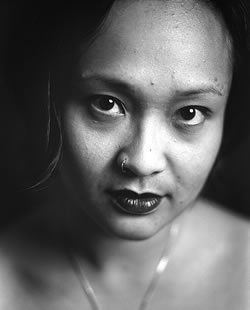 Barbara Jane Reyes is the author of Diwata (BOA Editions, Ltd., 2010), recently noted as a finalist for the California Book Award. She was born in Manila, Philippines, raised in the San Francisco Bay Area, and is the author of two previous collections of poetry, Gravities of Center (Arkipelago Books, 2003) and Poeta en San Francisco (Tinfish Press, 2005), which received the James Laughlin Award of the Academy of American Poets. She is also the author of the chapbooks Easter Sunday (Ypolita Press, 2008) Cherry (Portable Press at Yo-Yo Labs, 2008), and For the City that Nearly Broke Me (Aztlan Libre Press, 2012). An Andrew W. Mellon Foundation Fellow, she received her B.A. in Ethnic Studies at U.C. Berkeley and her M.F.A. at San Francisco State University. She is an adjunct professor at University of San Francisco's Yuchengco Philippine Studies Program, where she teaches Filipino/a Literature in Diaspora, and Filipina Lives and Voices in Literature. She has also taught Filipino American Literature at San Francisco State University, and graduate poetry workshop at Mills College. She lives with her husband, poet Oscar Bermeo, in Oakland, where she is co-editor of Doveglion Press.
Thursday, November 15th
Master Class with Oscar Bermeo
4PM
Eaton Residential College, Room 108
1211 Dickinson Drive
Coral Gables, FL 33146
Reading featuring Oscar Bermeo and Barbara Jane Reyes
8PM
Books & Books
265 Aragon Avenue
Coral Gables, FL 33134
Friday, November 16th
Master Class with Barbara Jane Reyes
4PM
Eaton Residential College, Room 108
1211 Dickinson Drive
Coral Gables, FL 33146
---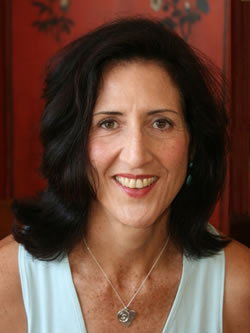 Valerie Martínez is a poet, translator, teacher, playwright, librettist, and collaborative artist.  Her award-winning books include Absence, Luminescent, World to World, A Flock of Scarlet Doves, Each and Her, And They Called It Horizon  and This is How It Began. Her most recent book, Each and Her (winner of the 2012 Arizona Book Award), was nominated for the Pulitzer Prize, the National Book Critics Circle Award, the PEN Open Book Award, the William Carlos William Award, and the Ron Ridenhour Prize.  Her work has been widely published in journals, magazines, anthologies and media outlets including The Best American Poetry, the Washington Post, and the Poetry Foundation's Poetry Everywhere series. Valerie has more than twenty years of experience as a teacher, primarily at the college level.  For over fifteen years, she has also worked with children, young adults, adults, teachers, and seniors in a wide range of community outreach and educational programs.  She is Executive Director of Littleglobe, Inc., a non-profit collaborative of artists who work in community. Valerie has a B.A. from Vassar College and an MFA from the University of Arizona.  She was the Poet Laureate of Santa Fe, New Mexico for 2008-2010.
Thursday, January 31st 
Reading
8PM
Books & Books
265 Aragon Avenue
Coral Gables, FL 33134
---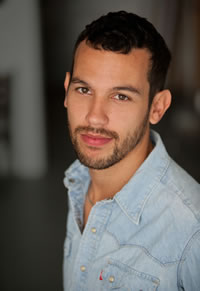 Justin Torres  was raised in upstate New York. His work has appeared in Granta, Tin House, and Glimmer Train. A graduate of the Iowa Writers' Workshop, he was the recipient of a Rolón Fellowship in Literature from United States Artists and is a Wallace Stegner Fellow at Stanford. Among many other things, he has worked as a farmhand, a dog walker, a creative writing teacher, and a bookseller.
Thursday, February 21st
Reading
8PM
Books & Books
265 Aragon Avenue
Coral Gables, FL 33134
Friday, February 22nd
Master Class with Justin Torres
4PM
Eaton Residential College, Room 108
1211 Dickinson Drive
Coral Gables, FL 33146